Product features:
It has the advantages of combining rigidity and flexibility, high internal damping and easy mixing with other materials. Timbre performance natural thick, full bass.
Speaker is very common electroacoustic energy conversion device, which can be seen in the electronic and electrical equipment that produce sound. Speakers are sound reinforcement software that can make your computer equipment a free sound amplifier.

HYANKA has a unique manufacturing process for your speakers. Voice cone is by far the most important components of the speakers, there is a large part of customers, a subjective evaluation listen to evaluate the performance of speaker. While12 inch black non-press paper cone has a direct influence on quality, on the other hand, the design of the paper cone, particularly in terms of material is also the most difficult to copy is.
Materials of Speaker Cone: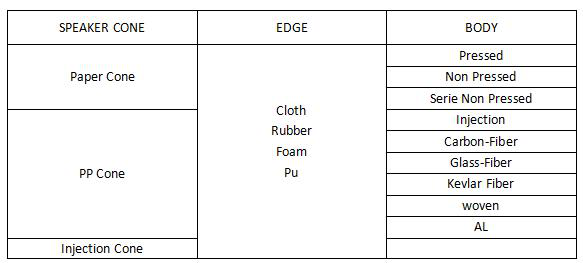 Ningbo Hiyanka Import & Export Co., Ltd has a mature manufacturing workshop and QC system. Today, Hiyanka Audio is a company with a full industrial chain integrating R & D, manufacturing, sales, engineering, design, and creativity.

We are provide many top quality speaker products, such as speaker part, different speaker and speaker box. As a good quality paper cone supplier in china, Hiyanka has been committed to providing high-quality products and services for overseas customers.