Product Features:
Steel basket also has the advantages that other materials can not replace. It has good processing performance. Steel is the oldest pot frame, and its processing technology has developed to a quite stable level. Its strength is large, the strength of steel under the same volume is far greater than that of aluminum alloy, so the strength of qualified Steel Basket can be assured.
The steel speaker basket is the "skeleton" of the cone loudspeaker, which can combine the diaphragm, the folding ring, the centring piece, the magnet, the magnetic conducting element, etc. it can also play the role of installing the loudspeaker on the box. When the loudspeaker is working, the diaphragm will conduct the vibration to the fold ring, the fold ring, and then to the basin frame, and further to the box.
Adopting the sheet metal stamping process, the consistency is very good, the stamping pattern on the surface further increases the strength of the basin frame. Black surface spray treatment, durable wear - resistant.
Plating Type:
| | | | |
| --- | --- | --- | --- |
| Painting | Spray Paint | Plating | Electrophoretic coating |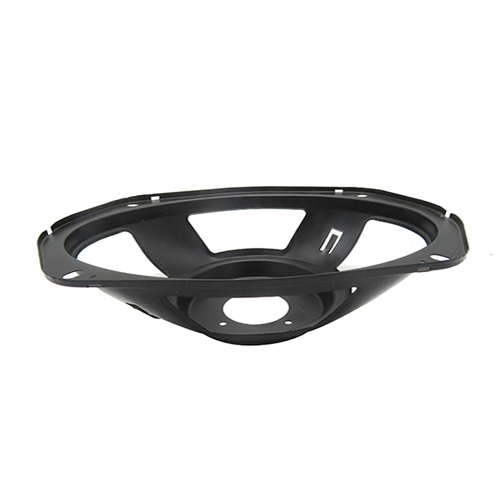 Ningbo Hiyanka Import & Export Co., Ltd has a mature manufacturing workshop and QC system. Today, Hiyanka Audio is a company with a full industrial chain integrating R & D, manufacturing, sales, engineering, design, and creativity. We have been devoted to the R&D and manufacturing of audio products for many years. Excellent product, high-quality and efficient service are our core competitiveness. We provide many other parts of speaker products and you can find satisfied products.